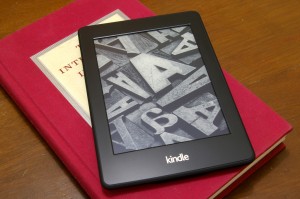 So I finally got my Kindle Paperwhite. It's your regular Kindle Paperwhite Wi-Fi version with the notable difference that since it's the Japan version, it's got 4GB instead of 2GB to account for the popularity of manga I guess. But for regular books, that translates to twice the number, from 2000 to 4000, of books if you somehow have that many.
The e-paper display, for which the Kindle is known for, is definitely awesome. No glare or reflections at all. The background color is actually a greenish gray which is actually fine for reading. To get the paper white background color, you'll need to turn on the built-in light which might impact the battery a bit. But it shouldn't matter since it's rated to last weeks instead of several hours with even the best tablets (iPads :P). A few hours, even days reduction shouldn't matter much. And in exchange you get to read with a pleasing warm paper white background and read in darker environments. That's quite fair enough.
The display is touch-sensitive and works well once you've gotten used to it. It is not as sensitive as the best tablets but definitely better than some of the others. Definitely sensitive enough for changing pages, which is the most common use. Since this is an e-paper display, refresh rates are not high and thus you change pages instead of scrolling. Scrolling is supported by the built-in experimental browser, but it's not pretty. Still, in a pinch, it's workable.
Of course it works awesomely with the Amazon bookstore. But a problem for me is how easy to buy something. I myself ended up with accidental purchases. This is offset somewhat by how easy to cancel a purchase. But I personally would prefer some authentication especially if kids are around. Another problem is that it's a little harder to find the free books (yes, there are lots of them in Amazon) since they're almost always mixed in with the paid books. But hey, that's Amazon's main business after all. And I've always been happy with them. Including with this e-book reader.