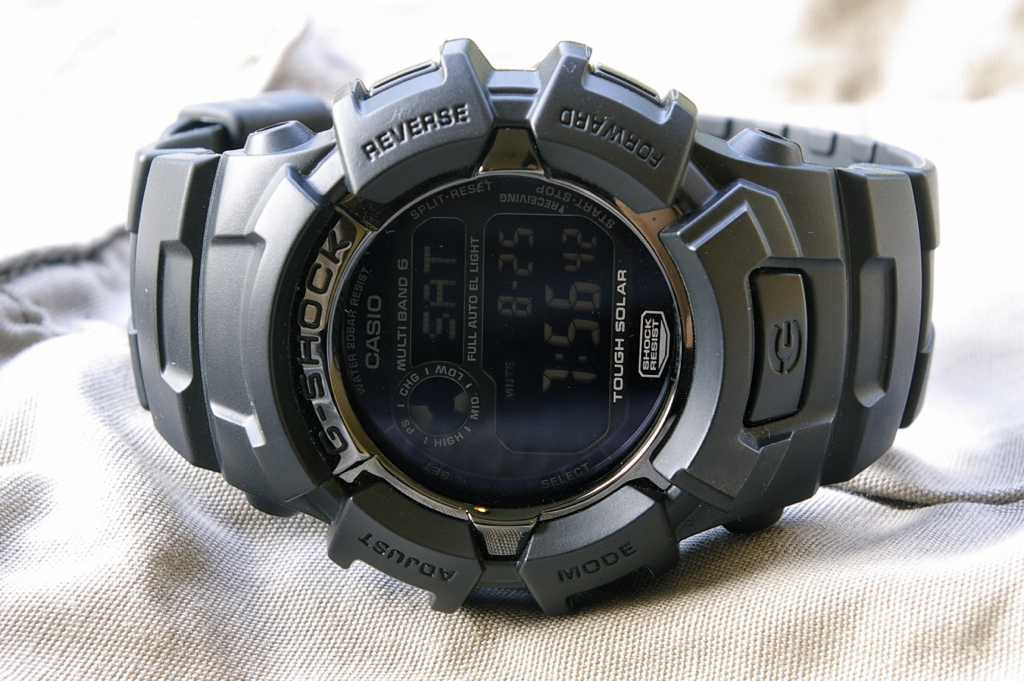 Leslie finally came back from his onshore assignment and he dropped this off at my desk: My new Casio G-Shock GW2310FB-1CR. Casio G-Shocks are known for their resistance to shocks (e.g. hard knocks and strong vibrations). They are designed primarily for sports, military, and outdoor adventure oriented activity. Of course, they're also water-resistant to 200M. Operators may have Rolexes and Omegas but when they're actually operating, they wear G-Shocks. And the color of this particular model, all black, backs up the walk with the look.
Aside from being a helluva beater of a watch, it's also a gadgety watch. Consider the specs:
Tough Solar Power – Solar rechargeable battery with power saving function and battery power indicator
Battery life – 10 months on full charge an no further exposure to light
Multi-Band Atomic Timekeeping (US, UK, Germany, Japan, China) – Receives time calibration radio signals which keep the displayed time accurate, accuracy: +/- 15 seconds per month
EL Backlight – With auto (glance to light) and manual (press G button to light) Illuminate and afterglow (1 or 3 seconds).
World Time – 31 times zones (48 cities + UTC), city code display, daylight saving on/off
4 Daily alarms and 1 Snooze Alarm
Hourly chime
1/100 second stopwatch – Elapsed time up to 24 hours, split time, 1st-2nd place times
Countdown Timer – 1 minute to 24 hours
Full auto-calendar (pre-programmed until the year 2099)
12/24 hour formats
Button operation tone on/off
Unfortunately, it doesn't have the compass, altimeter/barometer and thermometer function of the recently departed Suunto Observer. Also, this particular inverted display is a bit hard to read especially since the numbers are smaller than those on the Observer. Finally, the backlight doesn't remain on while being operated but shuts down in 1 or 3 seconds, depending on the setting. On those, Suunto had it beat. But at $150, it's still a lot of bang for the buck.
Rating: 4/5