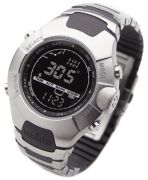 I've had my Suunto Observer for quite a few years now and it's still ticking albeit with a battery change or two which isn't really a big deal since you can just buy its CR2032 batteries from photo or battery shops and change it yourself.
So what's the big deal with this watch? Well, for starters, as Suunto would say: It's more than just a watch, it's a wrist computer. Aside from watch features like time, date, day, second timezone, stopwatch, countdown timer, and alarm, it also has an altimeter, a barometer, a thermometer, and a compass. And all these features do work and work well.
And you can be sure they will keep working: The watch is encased within a solid chunk of stainless steel case (there's also a titanium cased version) and the face is protected by mineral glass. Mineral glass is not as tough as sapphire but it still withstands a lot of abuse. The caseback as well as the bracelet is a polymer so it won't freeze on your skin. It is water resistant to 100 meters. Good enough for rain and the occasional dunking. It's not recommended for diving, although I've dived with it quite a few times with no adverse effects.
Best of all, it looks as good in the office as it does on the trail.
Rating: 5/5