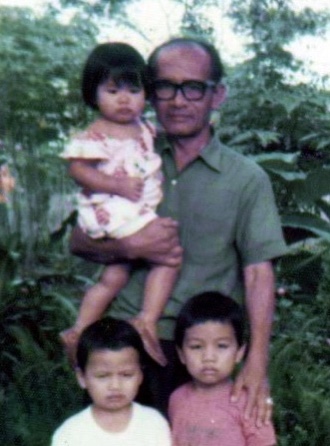 Earlier my wife had an impulse to visit her mom. Which prompted me to share about a friend recently losing her mom. It was also my way of supporting and encouraging her to visit. Life is short. My wife then asked our youngest if she wanted to come along. She was reluctant so, to encourage her, I told her about my grandfather who passed away when I was in Grade 2, same as she is now.
His name was Lolo Mike. He was one of the most interesting people I know. He was a guerrilla who fought against the Japanese in World War 2. He told us how he had a grenade after the war that he had to bury because my dad was asking what the cacao-like thing is on the shelf. He was a photographer and had a studio. He was musically inclined, he played the violin and tried to teach my brother and I the ukulele and guitar. He was also a craftsman, he tried to teach us how to craft nets. He taught us chess and I still play chess. He read us books and that was one of the reasons why I love reading. But above these, he had a lot of knowledge and wisdom that he imparted to us grandkids.
As I ended my story, I hoped I was able to impress on our daughter the joy of grandparents and valuing the precious time to be with them. As for me, it was a reminder that remembering them, they are with us.