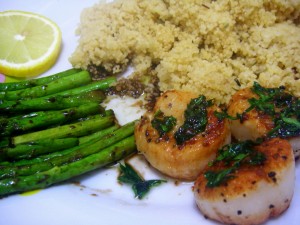 I promised Michelle to cook something I know, so here it is finally. Based on the recipe from the QIFTSG book.
Couscous
Chicken broth cube
Thyme
Asparagus
Olive Oil
Vinegar
Sugar
Scallops
Salt
Ground Pepper
Olive Oil
Butter
Chopped Parsley
Lemon
In pot, boil 2 cups of water. Add chicken cube (and thyme if dry). Let it boil. Add couscous (and thyme if fresh). Remove from heat, cover lid, and let stand for 5 minutes. Fluff with fork.
In pan, heat some olive oil. Add asparagus tips. Remove asparagus while still tender. Add balsamic vinegar and sugar to the pan. Thicken slightly. Put back asparagus.
If you're using frozen scallops, defrost well. Dry thoroughly with tissue paper. Season with salt and pepper. In pan, heat some olive oil. Add butter. Sear the scallops around 3-5  minutes per side till brown crust appears. Transfer the scallops to plate. Add more butter, lemon juice, and chopped parsley. Swirl a bit and pour onto scallops.