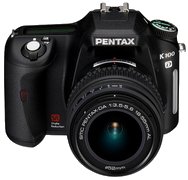 After much deliberation, I finally made my decision and got the Pentax K100D. There are two major reasons why I chose it over the Nikon D40.
The first reason is the feature set: it has just too many higher-end DSLR features to pass up. In fact, you could mistake it for a higher-end camera if not for the 6 megapixel resolution.
This approach of putting higher-end features to a lower-end camera also applies to its bigger brother, the Pentax K10D, which I almost considered. Unfortunately, though it is a bargain by itself, it was just too pricey for my intended use.
The second reason is I was turned off by the local Nikon distributor's representative who was all impatient and arrogant when I made inquiries. They may have their reasons and they may be makings tons of money selling Nikons but they sure won't be making it from yours truly.
I've been playing around with my K100D for the past few days and I must say I'm quite happy so far. It's very intuitive: I figured out most of the functions without reading the manual. And, of course, it takes great pictures. They could be a lot better in terms of composition, lighting, etc but in terms of image capture it's pretty much spot on. More here as I get to know the camera better.