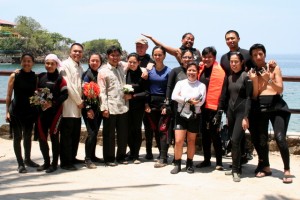 Went to Divers Sanctuary yesterday with Erwin to attend an underwater wedding, two in fact, organized by diver friends at Scuba1. It's not really something recognized by either the church or the government. It is just a memorable occasion for soon-to-be wed couples who love scuba diving.
It was my first time to witness an underwater wedding. Aside from the novelty of it all, what made it more interesting is that I was suddenly pressed into being the ring bearer. I was given two pairs of rings and was wondering where's the best place to put them. I finally decided to put them on my own fingers. I made it a point to make sure they were snug and tight.
But as I was preparing my gear aboard the bamboo platform which will take us over the wedding dive site, I heard a distinctive tinkle. With dread I checked my fingers and confirmed my fears: One ring has fallen off! We tried to look for it but it was nowhere to be found.
The next bad luck was when we found out the balloon markers used to mark the site had disappeared. Stolen, we could only surmise, by some divers who were diving around the area. It's sad that people, especially these ones who can obviously afford to dive a lot would still resort to thievery given an opportunity.
But as they say, the show must go on. And we descended to the wedding site and got started with the ceremony. Thankfully, aside from having to retrieve the rings from the first couple out of sight of the cameras, the weddings proceeded smoothly from the processing, to the vows, to the cord, to the veil, to the rings, and to the kiss. Twice.
After the weddings. We had lunch, and rested before embarking on a fun dive at Bahura Ligpo. It's a relatively deep dive at 35m and visibility was not too good but we did catch a glimpse of an interesting fish or two.
After the fun dive, we washed up, packed up, and rested a bit before heading off in a convoy. We dropped by Boun Giorno at Tagaytay for dinner. As we were finishing up, I noticed the waiters taking down what seemed to be a special table. It turned out to be their famous Opium Bed. I'm not entirely sure if it's any good but I suppose it's worth a try.
After farewells, we then split up and went on home.