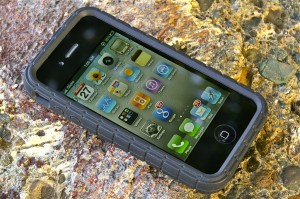 Okay so putting the gorgeous iPhone 4 inside a case generally fuglifies it. Nor is it recommended to put it in a case with a covered back due to spontaneous cracking issues. However, there are times when you need a measure of protection. Depending on how rough your destination is you can choose between a bumper to a heavy-duty case like the Otterbox Defender.
The Speck PixelSkin falls in between these two extremes. It is tough and thick but still reasonably light. The design is good, giving the iPhone a tough, no-nonsense, almost-military look. That is if you choose black. It is also available in wussy green, pink, purple, and blue.
The case covers the back and wraps around the edges giving the screen a slightly raised protective rubber bezel. This protects the screen from direct contact when the phone is face down. The buttons have touch-through covers but are still reasonably easy to press. There are cutouts for the proprietary Apple USB port, camera, and silent switch. The silent switch is still easily accessible with a finger (or pen) but some accessories will have a hard time reaching the USB port. The case fits the iPhone snugly and makes it look like it could bounce off the floor. I've accidentally dropped my phone and I can tell you that it actually does!
At P950, it is a reasonable investment if you plan to take your iPhone outside the office. Or if you want to look like you do.
UPDATE: The case has stretched by a millimeter or two resulting in partial obstruction of the camera and flash. It seems to be a common problem with silicone rubber cases. For this I'm reducing the rating by 1.
Rating: 4/5